The Meet Up (Fortune Gallery 2023)
Player Potential Contex Content Objects

2023

green-screen-green paint, basketball baloons,

Corperate Ladder
Social-Economical and Corporate Labour Ladder

2023
wood, green-screen-green paint, acylic paint, disco ball
I'm Thinking About Leaving, too.

2022
wood, chrome, plastic, balloons, ceramic, metal, tape
TECH

Laura travels through the global market from the comfort of her own home. A domestic space as it tranforms into a coperate office with the ability to bypass boarders.

2022
Found Projection screen (made by Jordan Hill), Framed in fur wood by me, Laura Kittar


CAMP:SITE 002

CAMP synthesizes a modern take on the activity of Camp(ing). CAMP highlights how westernized principals of possession spread into ideas of leisure, ecology, 'freedom', and relationships. Concepts from Susan Sontag's writings on Camp (1964) flow through the bright patterned textiles that create this synthetic ecology, representing 'a love for the unnatural…[for the] frivolous, [and] extravagant'. The 'tent' being an ungiving structure that passively consumes what's around it like" a kind of white that is not created by bleach but that itself is bleach.This white was aggressively white. It did its work on everything around it, and nothing escaped." (Chromophobia, David Batchelor)


***a huge inspiration to this project occured from seeing the artwork of Lucia Anaya in the Audain Gallery At the University of Victoria in the fall of 2022.
2022
yarn,, latex, wood, metal, inkjet, film, ceramic, chrome, monks cloth
We Meet Again
2022
wood, metal, discoballs, motor, panty hanger
THE
MEETING

Depictions of meetings as martyrs of success, but also considering how meetings are an integral part of any institution: long and tedious, complex and dry, and often lacking opportunities for active engagement, while also being a labour of leisure. The Meeting considers ides of labour and leisure, class and ethnicity, and anchors to the physical space of these coperate gatherings.
CLICK HERE

2 EXHIBITION TXT BY DANI NEIRA (FORTUNE GALLERY 2023)
2022
wood, metal, monks cloth, balloons, latex, plastic, yarn

Gilligans Island

Gilligans (derived from the term Mulligan) Island presents the leisure sport of golf as a dead form- one that represents critical elements of colonial values inviting the viewer to contemplate these implications of how land can provide some with a source of leisure and others a form of labour. I fabricate a reality that dissociates from the original, exposing the overly maintained, expensive, and rigid systems in which golf functions.
2022
latex, acylic, wool.

PINK PLAYCE:
PlAYing OnLinE WitH My FriEnds

Engaging in representations as an everyday experience. What is PLAYS role in the virtual world? Is it archival? Can it be real? Who has access to spaces of PLAY? Looking at the role of screens, the archive of the photgraphic image as a way of coninual an archival way of meaning making.
2022
wood, metal, latex paint, diabond, inkjet, arylic yarn, denim, latex, a real rock.

People I Play with IRL
2021
wood, metal, yarn, latex





Similacrum


2021
wood, inkjet, yarn, latex, papermache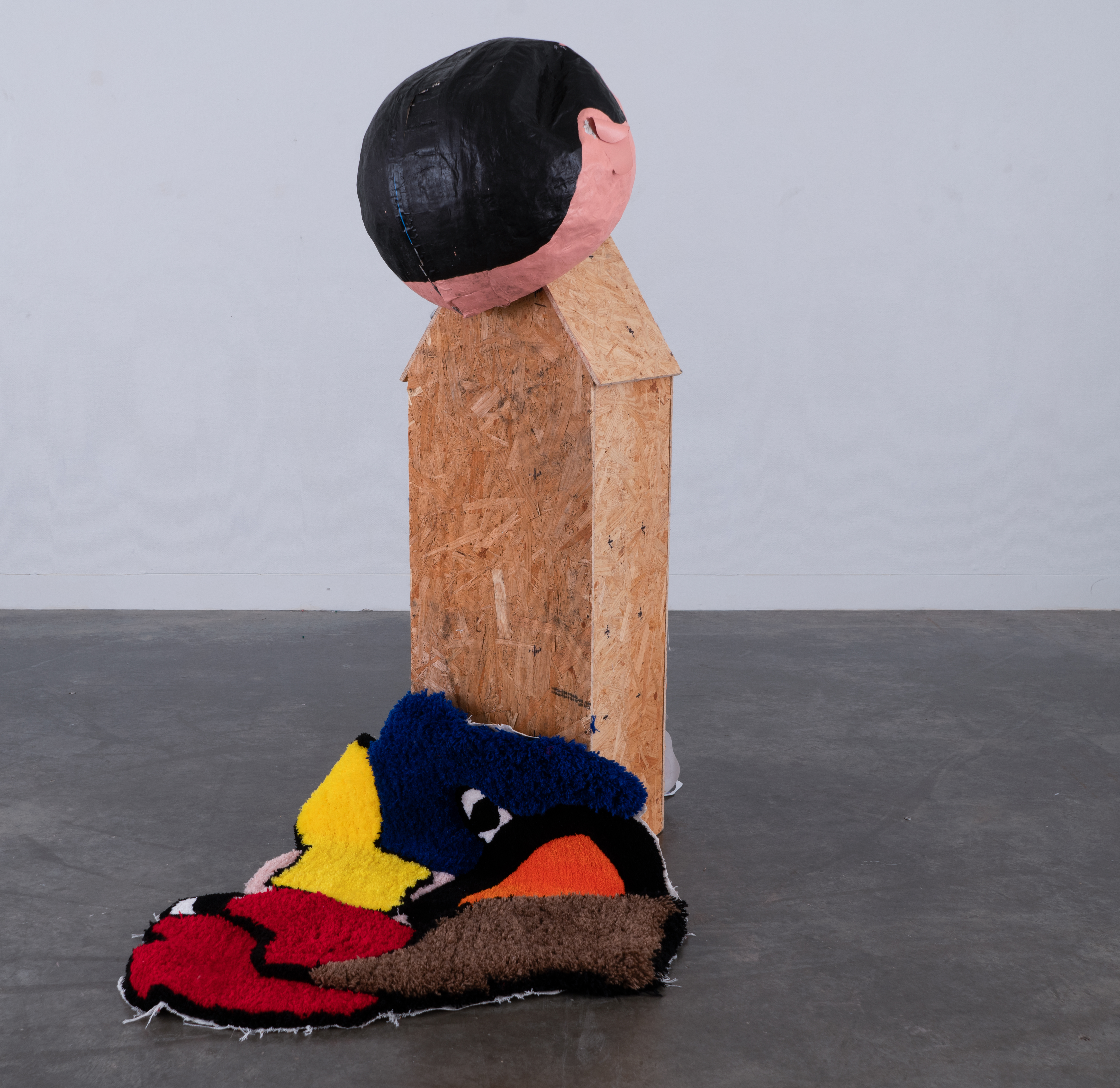 2022
choclate casted remote, glass, metal, Laura Kittar


Rinse, Wash, Shave, Repeat

Gendered observation of the "clean aesthetic." what does it mean to be thought of as "clean"? This aesthetic is created and shown through the white gaze. In this piece, I advertise the "clean aesthetic" through the parameters of an ordinary yet seductive cleaning regimen.

2021
(multple screen projections)
water, shower,
Laura Kittar, Lucas Haze
Untitled

2019
Glass, windex, Laura Kittar